OMIgosh I'm so excited! We acquired Sebbies!
I'm totally thrilled with the new additions to our farm, and even my hubby, who wasn't that thrilled at first, commented on how beautiful they are.
Of course, I had to give him "selling points" to convince him that these Sebbies were a good idea. I showed him egg sales on eBay and showed him how much goslings sell for on average. So, with his "blessing" and strict orders to "sell the eggs" I went and with the help of my dear friend, brought home this beautiful breeding quad of Sebastopols!
The one white goose was treated with blue kote because the lady's great pyr pup (who at 7 months old is the size of a pony!) was plucking the feathers out and "flossing" his teeth. That's why she chose to sell the Sebbies. She said she'd rather have sold the pup, but her husband refused to let the pup go, so she chose to let the Sebbies go when she saw that the pup had plucked that gal bald at the shoulders.
Which works out great for me! Here's the blue goose - she's my favorite, and was friend's favorite, too...almost had to pry her out of her arms!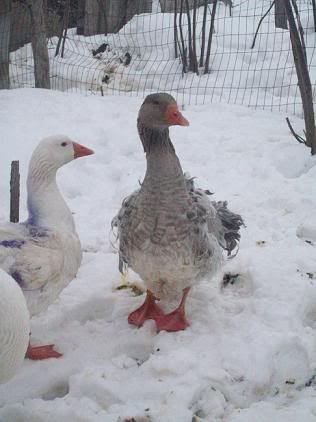 What was funny, when we got home, I asked my friend, "So, are you going to move out your Embdens to make room for Sebbies?"
She replied, "I dunno, because I have Pomeranians coming in April..."
To which I replied, "Yea, and I have Pilgrims coming in April..."
And you should have seen how
fast
my husband's head whipped around! He looked at me and exclaimed, "You have Pilgrims coming?! Then you didn't need these geese!"
I said, "Now just wait a minute, you knew I ordered Pilgrims! You were right there!"
He started laughing, so that tells me he was mostly just teasing, but after my friend left he did admit he had forgot I'd ordered Pilgrims.
So, we're discussing setting up hoop houses as geese shelters with pastured runs, so that I can have my geese separated and on grass and I'm planning on kiddie pools for their "ponds".
One of the Sebbies laid an egg yesterday before we picked them up, but so far, no egg yet today. I cannot wait to hatch some babies from these!
Oh and, just for fun, I took this shot of my pair of Blue Swedish. Just couldn't help it. They were standing so nicely, just asking me to.